Tuesday, 08 May 2012
THE INDIANA PRIMARY
Ken Berwitz
Just a quick speculation (not a prediction) about the Indiana primary.
Six term incumbent Richard Lugar is probably going to lose the Republican senatorial primary to state treasurer Richard Mourdock.
If that happens, I would put it at 50-50 that Mr. Lugar decides to run independent. What does he have to lose? At 80 years old he certainly isn't worried about hurting his prospects for higher office, is he?
And since Mr. Lugar remains very popular among lots of non-tea party Republicans,along with a good number of Democrats, it is not at all unlikely that he could win.
Stay tuned...........
AN UNFORTUNATE REFLECTION ON THE TRIBUNE-REVIEW
Ken Berwitz
Last Friday, the Pittsburgh Tribune-Review decided to do a feature on bathing suits. So it came up with a clever idea: An attractive young woman in a scanty bathing suit standing knee-deep in the water, next to the words "SUIT YOURSELF" which apparently are sitting on top of the water, complete with a reflection.
But the reflection created a bit of a problem, as you can see below: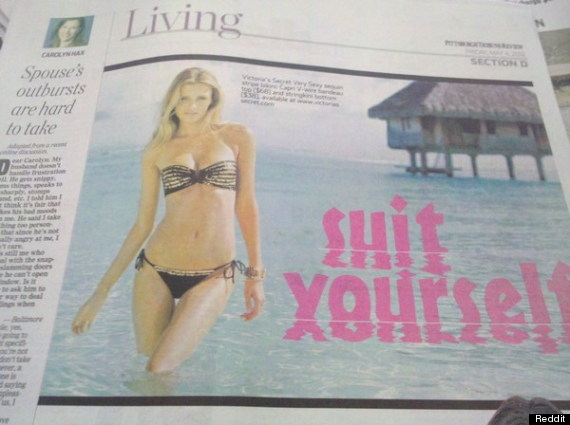 A word to the bathing suit model. That is not good advice........
And a word to the Tribune-Review editors: It might be a good idea to pay a wee bit more attention to the graphics. Because that is probably much too graphic for a newspaper.