Monday, 26 January 2009
WHO IS "TRAUMATIZING" THE CHILDREN OF GAZA
Ken Berwitz
As the UN, abetted by an ignorant or complicit media (often both) whine that Israel's attacks on Gaza "traumatize its children", I thought I would share some more photographs of those "traumatized" children with you. As before, I got them from www.freerepublic.com.
Take a look, and see if they give you a different view of who is traumatizing the children of Gaza:
.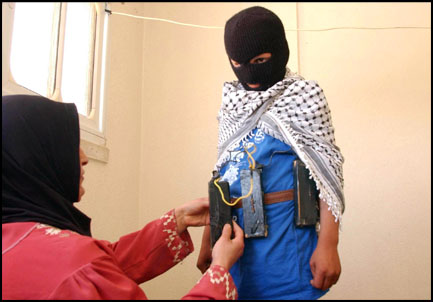 Ok, now tell me again, who is traumatizing the children of Gaza?
Is it Israel, or is it the proud parents who teach their children at the earliest age they can, to either take a gun and start killing or just blow themselves up?
Maybe the UN would like to look at these pictures. Then we can remind it that what hatred these children do not learn from their parents, they learn from their schoolteachers - in UN run and UN funded "schools".
Asking again: Who is traumatizing the children of Gaza?
I could go on. But I'm sure you get the point. And anyone who doesn't get the point by now, never will.
HAMAS' CONCERN FOR ITS PEOPLE
Ken Berwitz
We've discussed hamas' use of women and children as human shields a number of times during the past month. But we have not yet talked about its theft of ambulances that transport injured Gazan civilians to where they could get care, maybe their lives would be saved.
Let's.
The following article is from Arutz Sheva. It comes complete with a non-Israeli source and supporting video footage:
Gaza War Crimes: Hamas Terrorists Tried To Hijack Ambulances
by Tzvi Ben Gedalyahu
(IsraelNN.com) Hamas - and not Israel - was the reason ambulances could not reach victims, a Gaza ambulance driver told the Sydney Morning Herald. He said that Hamas terrorists tried to hijack an entire fleet of Al-Quds ambulances during Operation Cast Lead.

Click here for YouTube video showng Hamas terrorists boarding a United Nations ambulance on May 11, 2004.

Foreign media quoted Hamas officials and Gaza Arabs several times during the war that Israel blocked ambulances from reaching dying victims, but Mohammed Shriteh, a 30-year-old driver for the Palestinian Red Crescent Society, told the Australian newspaper Monday that the Israel Defense Forces actually worked with the Red Crescent.
"We would co-ordinate with the Israelis before we pick up patients, because they have all our names, and our IDs, so they would not shoot at us," he told Herald reporter Jason Koutsoukis.
Shriteh said that he received an urgent call from a house in Jabalya but there was no time to arrange movements with the IDF. Amid nighttime shooting and explosions, he went into a house that was mostly destroyed and where three Hamas militia terrorists had taken cover.

"They dropped their weapons and ordered me to get them out, to put them in the ambulance and take them away," Shriteh related. I refused, because if the IDF sees me doing this I am finished. And then one of the fighters picked up a gun and held it to my head, to force me. I still refused, and then they allowed me to leave."
Foreign media have continued to blame Israel for blocking ambulances for Gaza Arabs, many of them victims of Hamas terrorists who executed or wounded Arab collaborators who assisted Israel during the fighting.
The Chicago Tribune on Monday reported that the IDF did not approve access for an ambulance to rescue one boy who was hit by gunfire and later died. The alleged incident is one of many that the media has published as justification for charges against Israel for supposed violations of international law despite the accounts that Hamas often commandeered ambulances.
Have you heard a word about this from the crocodile-tear specialists at the UN? There's as much chance of that happening as there is of the Muslim brotherhood seeking a charter from B'nai B'rith.
You certainly won't hear about it from most Gazan civilians, who know that if they dare open their mouths they will be dead along with their families.
It has been said that when you sleep with dogs you wake up with fleas. In Gaza, some of the people may finally be learning that when you elect murderous terrorists because you want them to kill Jews, you are just as vulnerable as the Jews are.
Nice job, folks. Great voting decision.
THE ATTEMPT TO RETRIEVE NORM COLEMAN'S STOLEN SENATE SEAT
Ken Berwitz
Now that the attempt to steal Norm Coleman's senate seat has been successfully completed, we are in the period when Mr. Coleman attempts to reverse what has been done and retrieve it.
Scott Johnson of www.powerlineblog.com, who gave us invaluable information during the theft of Mr. Coleman's seat, is now providing equally invaluable information about the retrieval attempt.
Here is his latest post:
The election contest brought by Senator Coleman to determine the winner of his race against Al Franken for begins this afternoon in St. Paul before a panel of three judges. Star Tribune reporter Kevin Duchschere profiles the three judges here. Former Star Tribune reporter Jay Weiner previews the election contest here. Chris Cillizza and Paul Kane preview it here.
After the canvas tabulating the election result, Senator Coleman had apparently defeated Franken by 215 votes. The closeness of the margin required a recount under state law. Following the recount before the Canvassing Board, Senator Coleman lost his lead and now trails Franken by 225 votes.
How does Senator Coleman hope to recapture the lead in the election contest? He raises two principal issues. The first has to do with absentee ballots that were rejected by local officials on election night. More than 11,000 rejected absentee ballots remain uncounted. Senator Coleman seeks the inclusion of some of them as having been improperly rejected further seeks the treatment of all absentee ballots under a uniform standard. The Franken campaign incessantly demanded the inclusion of improperly rejected absentee ballots following the canvas in November.
The Coleman campaign has just released a video (above) with a medley of bygone calls by Franken campaign officials and Senate Majority Leader Harry Reid to count these rejected absentee ballots. The Franken campaign abandoned the call as soon as it found friendly local officials to identify approximately 1,200 improperly rejected absentee ballots in heavily Democratic counties. More than 900 were ultimately included in the recount and they ballooned Franken's lead from 49 votes to his current 225-vote margin.
Senator Coleman had no such luck with local officials in Republican counties. Senator Coleman identified more than 600 rejected absentee ballots that he claims (over the determination of local officials) were improperly rejected. He calls for their inclusion. He has also unsuccessfully called for the review of thousands of other rejected absentee ballots under the same standard applicalbe to previously rejected absentee ballots that were included in the recount.
On Friday Senator Coleman separately filed a "reverse class action" lawsuit regarding the 11,000 rejected absentee ballots. The Star Tribune reported developments through Fridyay here.
The rejected absentee ballots are critical to Senator Coleman's case for the same reason they were critical to Franken following the canvas. That's where the necessary votes are.
Whether or not their inclusion would propel Senator Coleman to victory is not clear to me. Franken apparently thinks they would. He has certainly lost any interest in counting every ballot. Rather, he wants to skip the contest entirely and be seated in the Senate. Franken accordingly brought a frivolous motion for Senator Coleman's contest of the election to be dismissed. Last week the election contest panel predictably denied Franken's motion.
The election contest will also address Senator Coleman's claim regarding the double counting of absentee ballots. Senator Coleman has asserted that at least 130 absentee ballots, tilting heavily to Franken, were double counted in certain precincts that reflected more votes than voters. He will have to persuade the election contest panel that the explanation for the discrepancy between votes and voters in these precincts is more likely than not attributable to the double counting of absentee ballots.

Finally, Senator Coleman asserts that the Canvassing Board improperly included missing votes in one Hennepin County precinct in the recount. Under Minnesota law, these votes should not have been included in the recount, but they would in any event properly be included in the contest. The evidence supporing the existence of the missing ballots is strong. Franken will win this issue.
The parties' pleadings and court orders in the election litigation are accessible online here. The parties' filings in the Minnesota Supreme Court and Supreme Court court orders are accessible online here.

Can Norm Coleman reverse this joke of a "recount"?
Can he reverse a result in which there was no uniform standard for determining which votes were and were not valid, so the winner was the candidate whose operatives could most cleverly and deviously "game" the system?
We'll find out soon enough.
BLAGOJEVICH: "IF I'M GOING DOWN........"

Ken Berwitz

Let's start with a few seemingly obvious assumptions:
-Illinois politics is about as dirty as it gets.

-rod blagojevich is as dirty as dirty can be.

-He's got plenty of company.
The Democrats in Chicago, Illinois and, as of January 20, in Washington DC, must have prayed as hard as they could that blagojevich would just resign in disgrace and go away.

Well, if they did, their prayers weren't answered. Here is the story from NBC Chicago:
Top Obama Aides Subject of Blago Subpoenas Alexrod, Jarrett among names
Updated 11:40 AM CST, Mon, Jan 26, 2009

On Richard Nixon's birthday, embattled Gov. Rod Blagojevich awoke to an Illinois House impeachment vote, went for a run and addressed the media with works...

It's official. Gov. Rod Blagojevich has been impeached by the Illinois House. Now, his trial will move to the state Senate.

Among 43 subpoenas released by the Blagojevich administration Friday, one from Dec. 8 seeks notes, calendars, correspondence and any other data that relate to Axelrod, Jarrett and 32 other people and organizations.

That was the day before the FBI arrested Blagojevich, a two-term Democrat, on charges that he tried to trade his appointment to replace Obama in the Senate for campaign contributions. Wiretapped conversations show Blagojevich thought Jarrett was interested in the seat and he wanted campaign money or a high-paying job in return, according to a sworn statement.

Obama's staff released a report in December that said his staff had no inappropriate contact with the governor's office about the Senate seat, nor was anyone aware of any dealmaking. Axelrod, a Chicago political strategist now in the White House, was not mentioned in the report.

Prosecutors have said Obama is not implicated in the case, and none of his advisers has been accused of wrongdoing. Aides to the president did not immediately respond to requests for comment.

Others listed on the subpoena are people linked to the 76-page criminal complaint against Blagojevich, which does not identify anyone by name except the governor and his former chief of staff, John Harris, arrested the same day.

They include first lady Patricia Blagojevich and her former employer, River Realty; former Blagojevich aides Lon Monk, John Wyma, Christopher Kelly and Doug Scofield; his brother and campaign manager Robert Blagojevich; Chicago Tribune owner Sam Zell; and Tom Balanoff, Illinois director of the Service Employees International Union.

The federal complaint charges Blagojevich with trying to pressure the Tribune into firing unfriendly editorial writers and seeking a six-figure job with an activist group affiliated with SEIU. Prosecutors say he also discussed a better job for his wife.

Dec. 11 subpoenas to the Capital Development Board and Transportation Department requested contract-bidding documents and other information on 22 engineering firms and individuals. They include a company whose president hosted a Nov. 10 fundraiser for Blagojevich that brought in $60,000 as prosecutors claim the governor sought to cash in on Illinois Tollway construction.

The Illinois House impeached Blagojevich earlier this month. A Senate trial over his ouster starts Monday, and Blagojevich said Friday that he will not participate because he believes the process is unfair.

The 43 subpoenas released Friday under the Freedom of Information Act, plus seven previously disclosed, cut a wide swath through the beleaguered administration, demanding everything from complex hiring records to Patricia Blagojevich's appointment calendar.

Blagojevich acknowledged in fall 2005 that his office and several cabinet agencies had received subpoenas seeking hiring records, but then he stopped talking about them.

The Better Government Association, a Chicago-based public watchdog group, fought a two-year lawsuit over release of the subpoenas, which it won late last month when Blagojevich's office turned over five subpoenas BGA sought under FOIA.

U.S. Attorney Patrick Fitzgerald's investigation into Blagojevich hiring practices was reported as early as 2005 and a Fitzgerald letter was released in June 2006 that indicated he had witnesses to "endemic hiring fraud."

But the investigation appears to have heated up again in 2007.

Since February 2007, 22 federal subpoenas have arrived at the governor's office. They include requests to four state agencies for contract information involving Ali Ata. Ata is the one-time Illinois Finance Authority director who testified last spring in federal court that Blagojevich was present when he turned over a $25,000 check to Blagojevich fundraiser Antoin "Tony" Rezko, then asked Rezko if he had discussed a state job with Ata.

Rezko was convicted in the case of 16 counts of fraud, aiding bribery and money laundering in trying to get Blagojevich campaign contributions from companies seeking state business. Ata's allegation that he bought his job is part of the federal complaint filed last month.

The government also has demanded information on Blagojevich appointments to boards and commissions and documents that show "favors, official action or any other benefit" promised to people who were potential donors and records related to anyone who contributed $25,000 or more to his campaign.

Other subpoenas requested all appointment calendars kept by the governor and first lady, paychecks issued to the governor, and air travel records for Blagojevich and his bodyguards. The governor has been criticized for his frequent use of state aircraft for daily round trips between his Chicago home and Springfield's state Capitol.

Evidently, blagojevich's attitude is that, if he's going down, he's taking people with him.

Illinois politics being what it is, I have absolutely no doubt that he can make things exceedingly uncomfortable, maybe even untenable, for some pretty highly placed Democrats. And don't discount the possibility that this includes one or two who operate out of 1600 Pennsylvania Avenue these days.

Or, put another way, why would you doubt that blagojevich has the goods on people like Axelrod, Jarrett, Emanuel and others? Because Obama's staff says a bunch of Chicago politicians are clean?

That's like believing your 4 year old when he tells you he wasn't going to eat the cookie you just caught him removing from the cookie jar.
THE NEW YORK TIMES' DEATH KNELL

Ken Berwitz

How bad are things at the New York Times? How close is it to going out of business altogether?

Here are key excerpts from a devastating article by Thomas Lifson of www.americanthinker.com, which tell the tale:

January 26, 2009
The Gray Lady turns a deathly shade of pale
Arthur Ochs "Pinch" Sulzberger Jr. has driven the proudest institution in journalism to the doorstep of ruin, its corporate debt earning the humiliating label of "junk" from Moody's Investors Services. And it wasn't just a slide over the line, the company tumbled three steps below investment grade.

Even worse is Moody's negative expectation, meaning further downgrades are on the horizon in the next 12-18 months. Moody's has withdrawn its rating for NYTCo commercial paper, its unsecured corporate borrowing. Nobody in his right mind is going to loan the company money that way anymore.

The terms of the company's $250 million loan from 2 companies controlled by Carlos Slim Hel, the Mexican billionaire the paper once scorned, force the Times to pay over 14% to borrow money. The added interest cost, especially the 11% that is paid in cash (the other 3% gets added to the debt balance, just like a credit card bill that can't be paid in full), is one factor in Moody's downgrade:

Only recently has the company tightened some rather lavish expense account practices:

News staff can no longer take each other out for drinks and charge it to the company! They had a great deal going there, going out with your colleagues for drinks and maybe dinner.

New per meal expense limits: $50 for dinner, $30 for lunch, $15 for breakfast. The high end places are now out of bounds. Apparently earlier, they weren't.
And even after the memo announcing expense account cuts was issued, Maureen Dowd wrote a story about "spa guilt" among the rich, deducting the expenses she incurred at a luxury spa.



Shareholders have lost between 80 and 90 percent of their investment in the company's common stock over the last 5 years, while the Times journos have merrily enjoyed the elitist lifestyle bubble on the company dime in Manhattan and capitals around the world.

Moody's is clearly worried about the company's liquidity, giving it a Speculative Grade Liquidity rating SGL-3. The company faces some substantial debts coming due through 2011. Moody's believes the Slim Money and other sources of cash will cover the 2009 debts, and the majority of a $250 million note coming due in March, 2010. But it has a $400 million debt rollover coming due in June, 2011. To pay that note off, the company will have to scrape together whatever cash it can drag out of its operations, and add money the company hopes to generate by selling (and leasing back) its interest in its headquarters building, and selling its interest in the Boston Red Sox, the New England newspapers, and perhaps -- its last salable asset -- the About.com group.

Plainly, the game is survival now. The core newspaper business is struggling for life everywhere, but the New York Times had special assets, including an unsurpassed brand name and a national presence. It might have been possible for a gifted leader to have steered the Times on a better course. Pinch publicly reassured his cousins that "innovative products and services across media platforms" would secure a bright future for the company. But his sweet words have proven to be blather.

His strategies have been poorly conceived and incompetently implemented. Pinch paid roughly half a billion dollars for About.com and a few other web properties that do not generate anything like a 14% return (the company's marginal cost of capital at the moment). He squandered over a billion dollars buying New England newspaper properties, now nearly valueless, except for the interest the Boston Globe had in the Red Sox.

In an unbelievably craven move, Pinch actually

raised the dividend

by almost a third in 2007, in the face of declining revenues and profits. This meant that the controlling shareholders, his family, received a one third spike in their income, as if to reassure that matters were under control. Or, if one were cynical, they got some of their money out while the company was still solvent.

Only a miracle -- a sudden rebound in the economy, the end of the internet, and a brand new mindset in the leadership of the company -- can save the company now. And I wouldn't bet on that trifecta. A "negative outlook" says it all. The handwriting is not just on the wall, it is in the securities rating.

Look some of this was unavoidable. Print media are in a world of trouble for reasons that go far beyond "Pinch" Sulzberger's bungling.

But a lot could have been averted, or at least lessened in degree. And apparently, at every turn, Mr. Sulzberger zigged when he should have zagged.

Think about this:
-The Times has spent two full administrations finding something wrong with everything that President Bush did, despite the fact that we have not been attacked by international terrorism since September of 2001, and Iraq and Afghanistan have turned into fledgling democracies.

-None of that mattered to the Times. Bush was nailed for everything he did wrong, everything he could be blamed for and even what he did right.
What if Sulzberger and Co. applied the same standards to their own actions and results? What would they have editorialized about the New York Times' last 8 years...............
NORWAY: THE ANTI-SEMITISM CONTINUES

Ken Berwitz

A very strong argument can be made that Norway is the single most anti-semitic country in Europe. And, believe me, there is a lot of competition for the crown.

To give you a flavor of how far back this goes, here is an excerpt from Manfred Gerstenfeld's article in the December 13, Jerusalem Post (please read the entire article to get a sense of how much more there is and how it continues right to the present):
During the war, the Norwegians were the ones who rounded up Jews and robbed them before shipping them off to Auschwitz. After the war, emergency help was given to what the Norwegians called the two "hardest-hit groups" - fishermen and residents of the northern part of the country. The Jews, however, were robbed further by the Norwegian democrats. During the restitution process, they had to pay for the administration of those of their assets recovered from the looters. About 10 years ago a senior Norwegian Nazi official proudly told a Jewish visitor that he had no regrets, and still had paintings and furniture taken from Jews.
Sadly (and infuriatingly) this same level of Jew-hatred still seems to pervade Norway. And the latest example is from a nondescript Norwegian diplomat in Saudi Arabia named trine lilleng.

This genius equates Israel's attack in Gaza (which occurred only after three years of daily bombings from hamas) with the nazi attempt to exterminate all Jews, (which occurred for no reason other than that Hitler and his many likeminded pals just didn't want any Jews to be alive).

David Harris, who heads the American Jewish Committee, has written an excellent response to lillgen's sickness. Here it is:



Dear Ms. Trine Lilleng,

You were an unknown Norwegian diplomat till this month.

No longer.

As first secretary in the Norwegian Embassy in Saudi Arabia, you recently sent out an email on your office account in which you declared: "The grandchildren of Holocaust survivors from World War II are doing to the Palestinians exactly what was done to them by Nazi Germany."

Accompanying your text were photos, with an emphasis on children, seeking to juxtapose the Holocaust with the recent Israeli military operation in Gaza.

Clearly, you are miscast in your role as a diplomat, all the more so of a nation that has sought to play a mediating role in the Arab-Israeli conflict.

In fact, you're desperately in need of some education.

Let's begin with your current posting. You've been in Riyadh since 2007.

If you're so anguished by human rights violations, perhaps you could have begun by devoting some of your attention - and email blasts - to what surrounds you.

Or were your eyes diplomatically shut?

Have you failed to notice the many legal executions, including beheadings, going on in your assigned country?

Have you ignored the often abysmal treatment of foreign workers, many from Asia, who also happen to be disproportionately counted among the victims of Saudi capital punishment?

Have you neglected the gender apartheid that surrounds you? Did you ever look out of your car to notice that Saudi women are proscribed from driving, and that's hardly the worst of it?

Have you checked the skyline of Riyadh or Jeddah lately to count the number of church spires or other non-Muslim houses of worship?

Have you bothered to inquire about the fate of homosexuals?

Okay, you were AWOL on those issues. Maybe you just didn't want to offend your hosts by speaking the truth, or maybe you're suffering from that diplomatic disease known as "localitis" or "clientitis."

But surely a woman like you, with such capacity for empathy for those in far-away places, and especially for children in danger, couldn't remain silent about other human rights transgressions, could she?

After all, could an individual so deeply moved by the plight of Palestinians in Gaza remain silent about what a New York Times columnist earlier this month described as "hell on earth" - Zimbabwe? Could a person so anguished by the fate of Palestinian children stay mum about a country where a girl's life expectancy at birth is 34, much less than half that of her Norwegian counterpart, and where the health care sector has vaporized, all thanks to the one-man rule of Robert Mugabe?

Could such a dedicated humanist possibly avert her eyes from the deadliest conflict since the Second World War, which has killed over five million people, many of them children, in the Congo in the past decade - not to mention the documented and widespread use of torture, rape, and arbitrary detention?

An observer of such acute sensitivity could hardly hold her tongue while Afghan girls attempting to go to school have been doused with acid by those who wish to deny young women access to education, reminiscent of the five years of Taliban rule, could she?

In neighboring Pakistan, where you served in the Norwegian embassy for three years, the beleaguered human rights community must have been fortunate to have such an impassioned voice for all that's wrong in this failing state. Or was that voice, perhaps, on mute?

The children of Sderot, the Israeli town near the Gaza border, have been in desperate need of just such a spokesperson as you for the past eight years.

After all, their town has been in the crosshairs of literally thousands of missiles and mortars fired from Gaza. Those Israeli children live with all the signs of trauma, knowing that, with only 15 seconds warning, they could be hit at any time in their schools, their parks, or their beds. Yet, during my visit there last week, for some reason, those children and their parents had yet to hear you speak out for them. What a pity!

And the children of Iran could use your help as well. According to human rights groups, Iran has no compunction about executing children or those who were children when their crimes were allegedly committed.

Oh, and by the way, your compassionate help would also undoubtedly be welcomed by others under the gun in Iran, including women's rights activists, union organizers, student protesters, independent journalists, reformist politicians, and religious minorities. And let's not forget, once again, the children of Israel, who, according to the Iranian president, don't have a right to live.

But wait! A Google search about you reveals nothing, not a single word, regarding your views on Zimbabwe, Congo, Afghanistan, Pakistan, Sderot, or Iran. Or, for that matter, Burma, Darfur, Syria. Shall I go on?

Only Israel, faced with those who wish to destroy it, manages to prompt your impassioned correspondence and righteous indignation. Why?

No less, your stunning lack of education extends beyond the contemporary world to 20th century history, specifically the Holocaust.

Your invocation of the Holocaust to describe what's taken place in Gaza is, frankly, nothing short of obscene.

Your claim that the grandchildren of the survivors are doing to the Palestinians exactly what was done to them goes beyond any norm of decency, much less honesty.

Approve or disapprove of the Israeli military operation, but there is no basis whatsoever for such a comparison.

When Israel entered Gaza in a war of self-defense in 1967, the population was 360,000. After Israel withdrew totally from Gaza in 2005, it was estimated at 1.4 million.

Would that the Jewish population under Nazi rule had quadrupled!

When Israel entered Gaza in 1967, life expectancy for women was 46. When it left Gaza, it was 73.

Shall we even bother to discuss life expectancy for Jews under Nazi occupation?

The Second World War in Europe lasted from September 1, 1939 to May 8, 1945 - 68 months in all. That means an average monthly extermination rate of nearly 90,000 Jews.

Compare that to the total number of victims in Gaza over three weeks - roughly guesstimated at more or less 1,000 - and recall that the majority were armed fighters committed to Israel's destruction, who used civilians, including children, as human shields, mosques as arms depots, and hospitals as sanctuaries.

Believe me, Ms. Lilleng, if the "grandchildren of the Holocaust survivors" had wanted to do exactly what the Nazis did to their grandparents, they would have unleashed their full air, land, and sea power. They would have thrown the Israel Defense Forces' ethical guidelines to the wind, kicked out the UN and Red Cross personnel on the ground, stopped humanitarian transports of food, fuel, and medicine, prevented media reporting, and left absolutely nothing - and no one - standing.

Unless, of course, they needed slave labor, in which case they would have carted off the able-bodied to work in Auschwitz replicas until they dropped. Or material for ghoulish medical experimentation, in which case, in the spirit of Mengele, they would have kept Palestinian twins alive temporarily.

But Israel didn't do any of these things. It's a peace-seeking democracy dedicated to the rule of law - unlike so many of the countries whose horrific sins you blithely choose to overlook.

What are we to make of your selective moral outrage and rank hypocrisy?

You ought to take a look in the mirror and ask yourself why Israel, and only Israel, makes your blood boil and leads you to speak out, even at the risk of grossly distorting both reality and history.

The answer, Ms. Lilleng, should be painfully obvious.


My only disgareement with Mr. Harris is his giving trine lilleng the respect of capitalizing her first and last name.

I only wish I could say that, when it comes to Jew-hatred, she is an isolated case. But I can't because she isn't. Not by a long shot.

Certainly not in Norway.
THE GUANTANAMO ISSUE - IN ONE CARTOON

Ken Berwitz

They say a picture is worth 1,000 words.

Here is a cartoon from Gary Varvel of the Indianapolis Star that's worth 10,000.

Any questions?
KRISTOL VERSUS DAMON: A MISMATCH IN PROGRESS

Ken Berwitz

Here are three good rules in life: Don't kick anything immovable, don't fry food barechested, and don't pick a fight with someone who is dramatically smarter and more savvy than you are.

I don't know if Matt Damon has learned the first two rules. But he clearly hasn't learned the third, as the following article from www.bighollywood.breitbart.com shows:

Iraq War Showdown: Bill Kristol Agrees to Debate Matt Damon After Actors Idiot Slam

On Sunday afternoon Weekly Standard editor and New York Times columnist Bill Kristol in an email exchange with Big Hollywood agreed to debate Matt Damon on his Hollywood home turf after being informed the 38-year old actor ridiculed Kristol in an interview in the Miami Herald.
Hes an idiot he wrote that we should be grateful to George Bush because he won the Iraq war. We! Won! The! War!
As the sponsor of the event, Big Hollywood is offering $100,000 to Damon (or to the charity or carbon credit of his choice) to publicly debate Kristol at a mutually agreed upon time, date and venue.
During the last election cycle the liberal activist Damon who briefly attended Harvard University also heaped scorn on John McCains vice presidential pick, Sarah Palin:
You do the actuary tables, theres a one out of three chance, if not more, that McCain doesnt survive his first term, and itll be President Palin. Its like a really bad Disney movie, The Hockey Mom. Oh, Im just a hockey mom from Alaska, and shes president. Shes facing down Vladimir Putin and using the folksy stuff she learned at the hockey rink. Its absurd.
Damon is no stranger to left-wing politics. His Oscar-nominated screenplay, Good Will Hunting, co-written with Ben Affleck, was inspired by anarchist Boston University historian, Howard Zinn.

According to Wikipedia:
Damon included a reference to A Peoples History in his film Good Will Hunting. In a confrontation with his psychologist, played by Robin Williams, Damons character tells him: If you want to read a real history book, read Howard Zinns A Peoples History of the United States. That book will knock you on your ass. Damon also read the latter half of Peoples History for an audiobook released February 1, 2003.
If Damon agrees to participate, Big Hollywood will work with both parties to secure mutually agreed upon the parameters of the debate (e.g., Did We Win the War in Iraq?)

I'd say the lines are drawn, wouldn't you?

I don't always agree with Bill Kristol. But he is one helluva smart political thinker. And in the last two national elections, he just about nailed what was happening before the votes were counted. Watching the results come in was almost like watching a recap.

By contrast, while Matt Damon is far from stupid, he seems terminally affected by a very common ailment of successful actors: IamahollywoodstarsoIknoweverything-itis.

Trust me, that's a bad ailment to have when you're debating Mr. Kristol.

If Damon is anywhere near as smart as he thinks he is, now would be a good time to start thinking about a graceful, or even not so graceful, retreat.

------------------------------------------------------------

FYI: For the past year Kristol has written a once-a-week column for the New York Times.

At the bottom of today's column there is a note: "This is William Kristol's last column" No elaboration of any kind. Not one word regarding why he will no longer be published in the Times, no indication of who broke it off, no "The New York Times wishes Mr. Kristol well", nothing.

I doubt that it will take long before there is news about this parting of the ways.