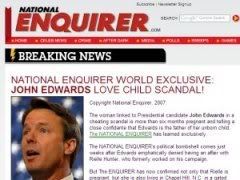 It's a strange dichotomy. While NBC News continues to maintain a wall of silence regarding the alleged John Edwards scandal, the comedians on that network are having a field day joking about it. On Monday night Jay Leno told the following John Edwards joke:
John Edwards asks Kobe Bryant, 'What's a good jewelry store?'
Conan O'Brien went even further on Tuesday night with an extended joke that incorporated video shots of his band leader, Max Weinberg, as well as trombonist Richie "LaBamba" Rosenberg:
O'BRIEN: I'm sure many of you have heard the rumors about former Sen. John Edwards having a secret love child with a woman who used to work for him. Yeah, and when the story first broke, Edwards denied it. One of his former political aides claimed that it was he, not Edwards, that had made the woman pregnant. Well since then however the woman has confided that Edwards actually is her baby's father. And last week The National Enquirer caught Edwards visiting the woman in a hotel.

I want to talk about this just for a second. Now, I don't know about you but I find this whole thing really disgusting.

What kind of a guy would cheat on his wife, make another woman pregnant, and then still pretend to be an upstanding family man?

(Cut to shot of Max Weinberg)

It's ridiculous. I mean, I guess some jerks, in the public eye think they can do whatever sleazy little they feel like doing and then just scurry away like a weasel.

(Cut to shot of Max Weinberg)

Now only a spineless dirtbag would leave his trusting wife at home and then sneak off for a quickie with his out of town baby mama. It just makes me sick.

(Cut to shot of Max Weinberg)

A guy who probably spends less money supporting his army of illegitimate kids than he does on imitation Italian suits and over-priced hair gel.

(Cut to shot of Max Weinberg)

And rather... rather than take responsibility for his despicable actions, he gets some underling to take the heat for him, some innocent, insignificant schlub too stupid to realize he's being used.

(Cut to shot of LaBamba)

If you are as outraged as I am by all this, please address your angry emails to: cowardlyadulteroussleazeball@NBC.com

(Cut to shot of Max Weinberg with email address at the bottom of the screen)
It is very interesting that an alleged scandal that has entered our popular culture continues to be ignored by the mainstream media. Meanwhile comedians will now have a lot more John Edwards scandal material to work with thanks to the latest information released by the National Enquirer:
A NATIONAL ENQUIRER investigation has uncovered John Edwards mistress, Rielle Hunter the mother of his love child has been secretly receiv­ing $15,000 a month as part of an elaborate cover-up orchestrated by the former presidential contender.

The money is being funneled to Hunter by a wealthy colleague who was closely tied to the Edwards campaign. This same man is also shoveling cash to Edwards pal and former aide Andrew Young who tried to take the heat off the ex-Senator by claiming he is the father of Rielles baby.

And The ENQUIRER is also exclusively revealing that Rielles baby is a girl named Frances Quinn Hunter and was born at Santa Barbara Cottage Hospital.

A super-rich pal who was closely involved with the campaign finances is helping John. Its likely this man doesnt know all the dirty details of Johns extramarital affair, but is acting out of loyalty and is not asking a lot of questions only writing the checks, revealed a source very close to the situation.
So will the MSM at least double check the information in this story? If their past attitude is any indication, don't hold your breath. However, we can still continue to laugh at the jokes told by comedians about material that the major media still refuses to cover.