Sunday, 16 September 2007
A TASTE OF THE FUTURE: PART 23
Ken Berwitz
This is a new installment of insights into how your world will be if radical islam wins the global war it is fighting and ends western civilization. Radio Free Europe provides the details. I provide the bold print:.
Iran: Tehran Officials Begin Crackdown On Pet Dogs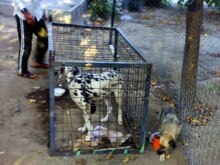 Dogs are taken from their owners and kept at a detention center
(Courtesy Photo)

In an unprecedented move, Iran's police have created a dog "prison" in Tehran. The move is part of a crackdown on what officials describe as immoral and un-Islamic behavior, during which thousands of young men and women have been detained or received warnings about the way they are dressed. Radio Farda reports that Tehran pet-owners are now also among those under pressure from the authorities.


September 14, 2007 (RFE/RL) -- Since the creation of the Islamic republic in Iran in 1979, the acceptability of dog ownership has been debated by the authorities.

Iranian officials say that according to Islam, dogs are considered to be dirty animals, and people who own dogs are viewed as being under Western influence. Some conservative clerics have denounced dog ownership as "morally depraved" and say it should be banned.

Friday prayer leader Hojatoleslam Gholamreza Hassani, who is known for his hard-line stances, was quoted a few years ago as saying that all dog owners and their dogs should be arrested.

In the past, dog owners have received warnings or were forced to pay fines for having a pet dog. Despite such harassment, dog ownership has increased over the years, especially among young people in Tehran.

One of them is 23-year-old Banafshe, whose dog was recently detained in Tehran for 48 hours and then released on bail. Banafshe says she was walking her young puppy, Jessica, when Iranian police snatched the dog and took her to a dog "jail." The dog's crime was "walking in public."

Banafshe claims the police insulted her, but out of fear for her dog, she didn't protest. She said she told the police that Allah says in the Koran that nothing bad has been created in this world.

"They said, 'We want to get rid of Western culture,'" Banafshe said. "They said, 'You live in an Islamic country, it's not right to have dogs. Are you not Islamic? Why does your family allow you to own a dog?' They insulted me, they even told me that they hope my dog will die. But there was nothing I could do but cry. You can't imagine how badly I was insulted."

'The Police Must Be Laughing'

The new clampdown on dogs follows a recent order by the head of Tehran's security forces, Ahmad Reza Radan, who said it is against the law for dogs to walk in public. The order has left many people baffled.

Nadja, whose sick dog was arrested right after it had surgery, considers the clampdown on dogs ridiculous. "One day it's dogs, the next day it's [crime prevention], tomorrow they have to catch birds. The police themselves must be laughing at this," Nadja said.

Another dog owner in Tehran, who did not want to be named, said that instead of detaining dogs, officials should concentrate their efforts on improving the country's economy and other important issues.

Some say they see the move as government interference in their lives.

All detained pets are taken to a newly created detention center. Radio Farda reports that some dogs are housed amid piles of garbage and debris. Others reported that a very large dog was confined to a cramped cage within the dog "prison."

Dr. Javid Aledavud, the head of Iran's Society to Defend the Rights of Animals, told Radio Farda that conditions at the center are very poor and unsuitable for pets. He says there are no passages in the Koran about dogs being dirty.

He adds that sniffer dogs are being used in Iran in the fight against drug trafficking.

Iranian security forces say the ban against walking dogs in public is meant strictly to fight Western influences.

Reza Javalchi, the secretary of the Society to Defend the Rights of Animals, says dog ownership, more common in the West, is considered by Iranian officials to be a sign of Western influence. "But that is not the case," he said. "If we want to speak about symbols of Western civilization then maybe wearing a suit is also Western. These are issues that have become part of human life. Based on our research, domestic dogs were kept in Iran for hunting and guarding maybe long before it became widespread in the West."

Last month, a young person was arrested in Tehran for posting ads of his lost dog.

According to Mehdi Ahmadi, a spokesman for Tehran's police force, such ads spread depravity by encouraging dog ownership.

Activists say that officially no legal prohibition exists in Iran against keeping dogs as pets. But that is little solace to the dozens of dogs that kept in the detention center, or their owners waiting for the return of their beloved pets.

(Radio Farda's Mohammad Zarghami, Keyvan Hosseini, and Azadeh Sharafshahi all contributed to this report.)

.

Take a good look. Because this is what will replace western civilization if we allow it to. And it will be the way YOU live.

If we fight against radical islam we may win and we may lose. If we do not, we will most assuredly lose because, either way, they will continue fighting. And if they win, our culture and our civilization is over, to be replaced by what? A society that tells us whether or not we can have a pet dog, and makes the decision based on what is in the koran, regardless of whether we believe in Islam?

God help the people who want to live this way. I know I'm not one of them. Are you?

We play political games with this lunacy at our own peril..




WE CAN ONLY HOPE....

Ken Berwitz

Please read this, courtesy of Fox news and the Times of London:.
Report: Israeli Jets Destroyed Syrian Nuke Cache
Sunday , September 16, 2007
It was just after midnight when the 69th Squadron of sraeli F-15Is crossed the Syrian coast-line. On the ground, Syrias formidable air defences went dead. An audacious raid on a Syrian target 50 miles from the Iraqi border was under way.
Click here for more from the Times of London.
At a rendezvous point on the ground, a Shaldag air force commando team was waiting to direct their laser beams at the target for the approaching jets. The team had arrived a day earlier, taking up position near a large underground depot. Soon the bunkers were in flames.
Ten days after the jets reached home, their mission was the focus of intense speculation this weekend amid claims that Israel believed it had destroyed a cache of nuclear materials from North Korea.
The Israeli government was not saying. The security sources and IDF [Israeli Defence Forces] soldiers are demonstrating unusual courage, said Ehud Olmert, the prime minister. We naturally cannot always show the public our cards.
The Syrians were also keeping mum. I cannot reveal the details, said Farouk al-Sharaa, the vice-president. All I can say is the military and political echelon is looking into a series of responses as we speak. Results are forthcoming. The official story that the target comprised weapons destined for Hezbollah, the Iranian-backed Lebanese Shiite group, appeared to be crumbling in the face of widespread scepticism.
Andrew Semmel, a senior US State Department official, said Syria might have obtained nuclear equipment from secret suppliers, and added that there were a number of foreign technicians in the country.
Asked if they could be North Korean, he replied: There are North Korean people there. Theres no question about that. He said a network run by AQ Khan, the disgraced creator of Pakistans nuclear weapons, could be involved. .
Simply stated, if Israel took out a nuclear weapons cache in Syria, good. We owe them. Big time.